Welcome to the Conquest of Elysium 3 Wiki
[
]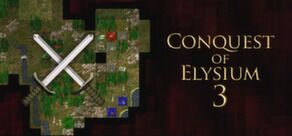 Conquest of Elysium 3 (released in February 2012) is an old school fantasy TBS game developed by Illwinter Game Design who also brought us the Dominion series.
For discussions involving Conquest of Elysium 3 please visit either the Desura Forum or the Steams Hub discussion forums.
The game can currently be purchased on Desura, Gamersgate and Steam for $ 9.99 / £ 6.99 / € 9.99.
The official Conquest of Elysium 3 website.
Popular Pages
[
]
What Is Your Favorite Class?
[
]
Latest activity
[
]